T-Bird ready for the KKOA Rod and Kustom Auction Block, July 28, 12:noon at the Salina Auto Auction, Salina, Kansas. Spectators Free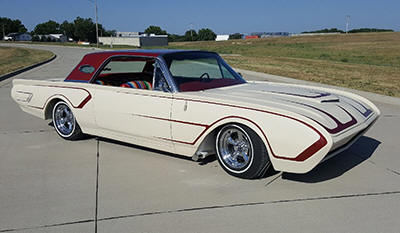 ---
POSTED: July 12

Look Ma No Door Handles!
This beauty is headed to the Auction block
at the 2nd Annual
KKOA Hotrods & Kustoms ONLY Auction,
Friday 12:noon, July 28th,
See this, and many more Rods & Kustoms
at the Salina Auto Auction Building
2845 Centennial Road, Salina, KS 67401

A KKOA Leadsled Spectacular Attraction!
Be Therrrrrrre….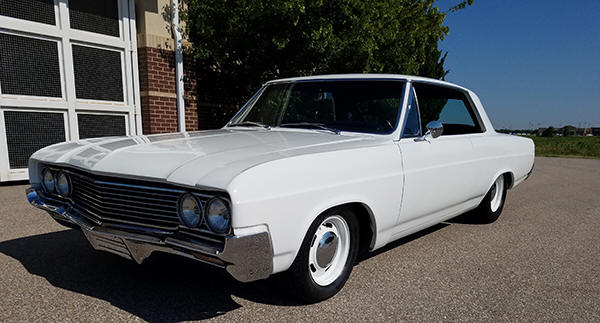 ---
POSTED: 6-22-17
"NURSE GOODBODY"
Will be On Call At The

LEADsLED SPECtACULAR!

Ok guys, if by chance you eat to many
Cozy Burgers, while you're in Salina,
never fear KKOA has you covered! Yip,
America's most famous TV nurse
will be on duty 10-5 daily at the 37th
KKOA Leadsled Spectacular!
Direct From (2) TV Hit Series!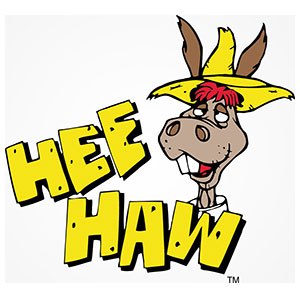 THE LOVELY

GUNILLA HUTTON

| | | |
| --- | --- | --- |
| | | |
Don't Miss the chance to meet and greet the star
of TV's (2) biggest and longest running series!
Pettiecoat Junction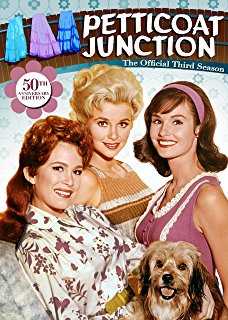 ,


and


Hee Haw.
She'll be meeting her many fans at the

park, Fri.,
Sat. & Sun., and she'll be singing on stage

at the
"One Night With Elvis

Concert."
A Kustom Kemps Of America

Presentation
Good news! Joining the lovely Ganilla, and back by
MEGA MUNSTER DEMAND!
EDDIE MUNSTER AKA: BUTCH PATRICK
The young TV Munster is all grown up, & still holds title
to his Munster Coach, and Drag-u-lar Car's.
And, he's coming back to the Leadsled Spectacular
for those who didn't get a chance last year to
say "Howdy", get a pic, and see his (2) kool cars.
For the record, Butch is still a hardcore hotrodder.
MUNSTER KEMPERS & KEMPS ARE KOOL!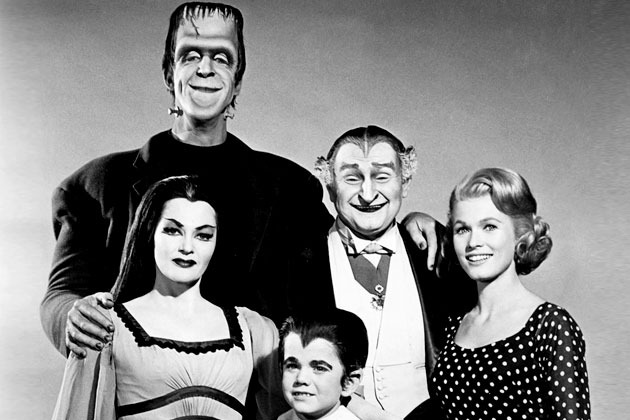 ---
Posted 6-20-17
37th Kustom Kemps Of America
Leadsled Spectacular
JULY 27-28-29-30, 2017
SALINA, KANSAS
Open To Pre-1969 Ol' Skool Kustomized Cars,Trucks
and Hotrod Roadsters-Sedans-Coupes
1970-2017 New Concept Customs (NCC) Welcome,
(Must Be Body Kustomized, No Stockers Please)
Event Attractions!
Thur. eve. 7:p, Sundown Cruise On Santa Fe Ave.
Fri.-Sat. 9a-5p, Sun. 9a-2p, showtime @ 26 Acre Oakdale Park
Fri. 5:p-till dusk (8:30) Run-What'ya-Brung-Drags @ E. Crawford Park,
Thur. 8:30p - DooWop to Disco Dance @ Quality Inn (Headquarters)
Fri.-9a-5p, Sat. 9a-5p,-Sun.-Vintage Bicycle Spoke-tacular @ Oakdale
Fri. Sat. 9a-5-p Model Car Spectacular @ Oakdale Park
Fri. & Sat. 9a-5p, (2) working Kustom Shops @ Oakdale Park
Fri.-Sat. 10a-5p, Sun.10a-1p, Movie & TV Stars, Kustomizers @ Oakdale
Fri. 12:pm-Auction Only for Rods & Kustoms @ Salina Auto Auction
Fri. & Sat.-9a-5p, Vintage Inter. & Exter. Home Decor Marketplace @
4-H Expo & Kenwood Hall (across from Oakdale Park
Fri. 8:30, KKOA Hall of Fame Picks & Induction Ceremonies @
Quality Inn (event headquarters)
Sat, Pin Striper Auction Oakdale stage
Sat. Hourly Awards, (Koolest head & Tailights, Paint, Grille, Stripping, Hubcaps)
Fri.-Sat.-Sun (2) Stages - (4) Bands-Vendors-Pin Stripers @ Oakdale Park
Sat. 8:pm. One Night with Elvis, & Only the Lonely Roy Orbison Tribute Concert
@ the Stiefel Theatre, (doors open at 7:p)
Sun. 1:p, Spectacular Award Ceremonies-$5,000 in Cash Awards,
Top 25 Awards @ Oakdale Park stage
Fri. Sat. Sun. - (2) $1,000.00, (2) Age Group Beauty Contest's!
Pin-up's (18-39), Looker's (40-+), @ Oakdale Park Stage
1st-$500, 2nd. $300, 3rd. $200, ea. age group
Sun. Christians Rod & Custom Oakdale Stage Church Services
Info. 417-847-2940
Email: kkemps09@centurytel.net
SEE'YA IN SALINA…..July 27-30,'17
…America's Hotrodding Playground…
---
Posted: 6-14-'17
The
BIG "O"
Is Returning To Salina, Kansas!
Pairing up with Donny Edwards, the
No. 1, Elvis, Las Vegas Headliner
Tribute act in America.
The No. 1, Roy Orbison Tribute artist,
Bill Holden
is returning for a unbelievable
evening of traditional Rock & Roll.
The experience of musical history
will happen at the nostalgist,
Stiefel Theatre
The same theatre that the Eagles,
Alan Jackson, Tony Bennett, Kenny Rogers
and many more have performed at.
Last year, Bill Holden, received raves and
standing ovation's from a stunned audience
with his mesmerizing performance
of Orbison's million selling hits.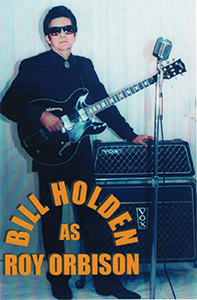 Showtime: Sat. July 29th, 8:pm
Tickets $25 ea., Doors Open @ 6:30
Seating on a first come first serve basis
Advance Ticket Sales starting July 1st
@ the Stiefel, (785) 827-1998
or at the famed Cozy Burger in Salina
The unforgettable night is a major event
of the 37th Kustom Kemps Of America,
LEADSLED SPECTACULAR
America's Oldest and Largest Kustom
Car & Truck Event. - 2,000-+ Entrants.
Info.: (417) 847-2940, Email: kkemps09@centurytel.net
---
Posted: 6-14-17
Kustom Kemps Of America

VINTAGE HOME DECOR


MARKETPLACE


SALINA, KANSAS

July 28 - 29, 2017
Vintage Original, Repurposed,
inside & outside Retro Home
Goods! Cowboy & Western,
Victorian, Mid Century Modern
Furniture and Decor. Vintage
Boutique Dress Apparel,
Jewelry, Watch's, Shoes, etc.
Architectural Salvage Decor!
Bathtubs, Sinks, Stools,
Stoves, Fridge's, Windows,
Trim, Fencing, Patio furniture.
All Things Old & Kool.
Vendors Welcome!
10 x 10 - $40

Spect. $1.00
Salina County Expo Center
Adjacent to the 37th ol' skool
KKOA Leadsled Spectacular
2,000-+ Hotrodding Show.
July 27-28-29-30, '17
Info.: 417-847-2940, Email:
---
Posted 6-9-17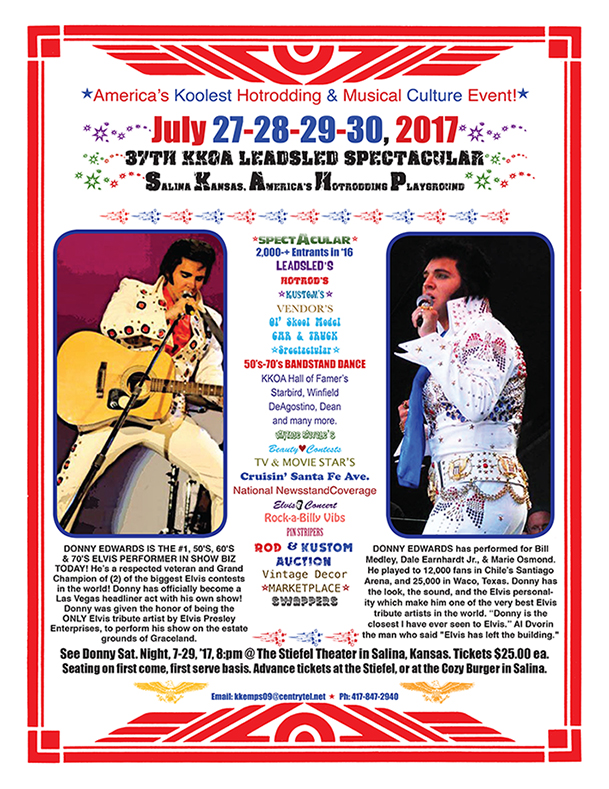 ---
Posted 6-9-17

CHECK IT OUT!

Here's our first kustom to register for the 2nd annual
KKOA Leadsled Spectacular Hotrod & Kustom Auction!
Fri. noon, July 28 @ the Salina Auto Auction. It's a
1954 Studebaker with 17,994 miles. Paint is Pearlesent
Orange/LT Tan, with kool '56 Packard taillight's.
Additional features:
STAINLESS GAS TANK. TILT & TELECOPING
STEERING COLUMN. GEN III VINTAGE HEAT & AIR.
POWER STEERING AND BRAKES. CRUISE CONTROL.
SECRET RADIO & STEREO, POWER ANTENNA WITH
CB. POWER WINDOWS AND DOORS. CUSTOM DASH
AND GAUGES. ROLLED FRONT AND REAR PANS.
CUSTOM REAR WHEEL OPENINGS. FRENCHED
HEADLIGHTS AND GRILL. CUSTOM MADE
KNOCK-OFF SB WHEELS.
Nice, nice kemp, ready to make any
kustom lover a happy kat. Buy it July 28th.
Auction Details Listed below on this link!
gAuction KEMPS Are Kool!g
---
Posted: 3-29-17
KKOA AMERICAN KUSTOM KAR BUILD-OFF!
As this is being written, kustom car builders across America are thrashing on kustom projects, with one destination! To meet-up in Salina Kansas, at the 37th Leadsled Spectacular, July 27-30, '17.
The American Kustom Kar Build-Off is a competition for, and amongest "KUSTOM CAR & TRUCK BUILDERS." The innovators, and fabricators, the visionaries of today, and the guys that actually get it done. We can't forget the designer gals either.
This competition is all about the opportunity to give "RESPECT" to the kustomizer's who are getting their hands dirty...and a super opportunity for them to SHINE and SHOWCASE their kustom talent's.
A chance to recognize builders from all over the country that are getting involved, and giving us a vision of where our kustom sport is currently now, and where it's heading. For certain, ranging from MILD to WILD builds, the kustom world is thriving like a well tuned flathead!
Competitors in this years competition, (so far), are Tim Dempsey from the Chicago area, Greg Joslin from Peru, Kansas, Jerry Dillinger from Seneca, Missouri, Warren Sallee from Wichita Kansas, Dustin Milligan and Geno Walker from Bartlesville, Ok., James Laga from Austin,Texas, Marco Gomez from, Big Lake, Texas, Jess Castillo from Los Angeles,Ca., Goody Goodman from Alston Mass., Scott Mills from Independence,Kansas, Rick Murrey of Denver, Co., and Jeff Myers from Arkansas City, Kansas.
The MAIN prize in this "Builders" competition is the RESPECT of other builders and the KKOA Kustom World at large. There'll be a perpetual trophy, some loose change$, (cash), dash plaques for the first attempt, and steak dinners to all that finish. KUSTOMS ILLUSTRATED magazine has agreed to do a feature on the competition and the winner.
The deadline for this years competition is The LEADSLED SPECTACULAR in Salina, Kansas at the end of July…(27-28-29-30). Judging will be done by fellow well known "BUILDERS" around the country. All Build-Off competitors must be registered entrants of the Leadsled Spectacular.
So, who'll make it to the finishline of Oakdale Park this July? Only the Shadow knows for sure, right now. But, If you're into a project and want to get on board with the "Kustom Build-Off", contact hotrodgenow@aol.com. He'll lay all the info. on'ya of how it werks.
KKOA Clubhouse - 417-847-2940, email: kkemps09@centrurytel.net
BUILD-OFF KEMPS ARE KOOL!
---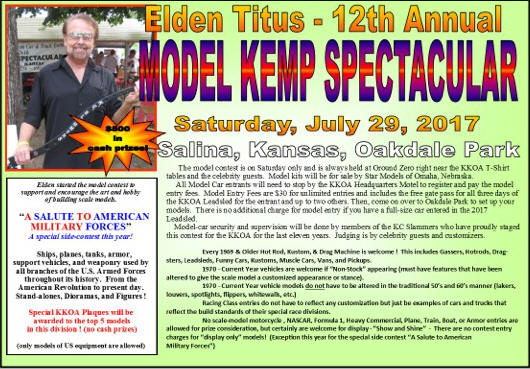 ---
Posted 3-14-17
Rods & Kustoms
Friday July 28th, '17!
12:pm Sharp
Salina
Second Annual
Kansas
and
KUSTOM AUCTION
Selling Finished,
Pre-1969 Traditional & Post 1970
and
KUSTOM's
KKOA created this auction to be dedicated

ONLY

to the world
of Hotrods and Kustoms, and under construction projects!
Example: In-progress builds, not finished chopped tops,
taillight changes, body done/no interior, primed, rolling
chassis's, etc. Also, American made rides, (no motors ok),
rolling on (4) wheels, rides that could be a hotrod or kustom
project. Sorry,

no

stock, restored Classics, or Antiques.
Duesenbergs, Corvette's, Mustangs, etc.), they have their
own style auction's.
Professionally Run Auction, Held @
the Salina Auto Auction, (est. 1958)
Complete Registration Details @
Sellers must be a registered entrant of the
Leadsled Spectacular.
FREE

Vehicle Registration, to the first 40 vehicles
that register's to auction.
$50.00 ea. vehicle after the first 40, so sign up fast.
Buyer and Seller Fees are a GREAT VALUE!
Seller Selling Fee (if sold) is: $200.00 min.,
or 5%. Which ever is greater.
Buyer Selling Fee (if purchased) is: $200.00 min.,
or 5%. Which ever is greater.
RESERVE or NO-RESERVE Selling Options.
All Sellers and Buyers
Must REGISTER ONLINE @
No vehicle registration accepted after
4pm Thursday, July 27th (day before auction).
THIS IS A AUCTION
DIG REAL KUSTOMS & HOTRODS
IT'S LONG OVERDUE!!!
Remember A Auction is the ONLY place
you can get more MONEY than you ask!
---
POSTED: 3-13-17
THEY'LL LEAVE THE LIGHTS ON FOR"YA!
Shown below is a listing of the Salina, lodging's, if booking for the 37th KKOA Leadsled Spectacular in Salina, Kansas. July 27-28-29-30-'17. The most important thing to do when contacting a lodging shown below, is to announce you are booking for the KKOA LEADSLED SPECTACULAR CAR SHOW. It's best, but not necessary to call during the day hours to book. And, do it as soon as possible, because all lodging's have filled full for the past (5) years. There are lots of rooms in Salina, and others within 15-20 minutes. Plus there is (2) new chain motels being built in Salina as this is being written. For additional info. call: KKOA 417-847-2940
LEADSLED SPECTACULAR - DRAGS - AUCTION - VINTAGE MARKETPLACE & BICYCLES
SALINA, KANSAS LODGING'S!


All Ph.: Area Code's (785), and Zip Codes: 67401

Quality Inn & Suites (KKOA Event Headquarters), 2110 W Crawford St, 825-2111

Ambassador Inn (Last years headquarters), 1616 W. Crawford 823-1739

Econo Lodge (Home of Hotrodders, good rates) 1846 N 9th St, 827-0356

LaQuinta Inn and Suites, KKOA 5 STAR approved.
201 E. Diamond Dr. (785) 827-9000, $91.00 + tax.
Excellent free breakfast! Western omelets,
w/sausage links, biscuits & gravy,
or scrambled eggs, bacon, fruits, cereals, coffee,
milk, and juices. Short drive to Leadsled Spectacular show park.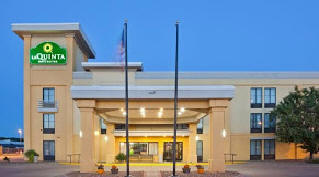 Days Inn 632 Westport Blvd., 827-9315

Comfort Suites 715 W, Shilling Rd., 404-6944
A Candlewood Suites,
(KKOA Highly Recommended)

2650 Planet Ave, 823-6939

Country Inn & Suites $89.00 + tax
(KKOA Highly Recommended)
2760 S 9th St, 827-1271

Econo Lodge 636 Westport Blvd., 820-8665
A Holiday Inn
(KKOA Recommended)
3145 S. 9th St, 404-6767
Live as Spectacular as the

Leadsled Spectacular!


At the COURTYARD BY MARRIOTT!

KKOA reduced room block rate is
$124.00 + Tax. To book a room, and receive
the reduced rate, call (785) 309-1300,
and identify yourself as being in the
Kustom Kemps Of America
group room block. It's expensive,
and the finest lodging in Salina.




Travelers Lodge 245 S Broadway Blvd, 827-9351

Holiday Inn Express Hotel & Suites 755 W Diamond Dr, 404-3300

Hampton Inn Salina 401 W Schilling Rd, 823-9800

BEST WESTERN PLUS Midwest Inn & Suites 745 W Schilling Rd, 493-9800

Ambassy Motel 217 S Broadway Blvd, 825-7265

Comfort Suites 715 W, Shilling Rd., 404-6944

AmericInn 1820 W Crawford St, Salina, 826-1711

America's Best Value Inn 2403 S 9th St, 827-5511

Motel 6 Salina 635 W Diamond Dr., 827-8397

Super 8 705 W Schilling Rd., 404-2771

Budget King Motel 809 N Broadway Blvd, 827-4477

Super 8 on I-70 120 E, Diamond Dr., 823 8808

Days Inn (near I-70) 407 W Diamond Dr, 823-9791