Posted 2-23-18
Kustom Kemps Of America (KKOA)
America's Oldest Consecutive Running
Kustom Car & Truck Association,
Established October 1, 1980
26 Main Street, Cassville, MO. 65625
Ph.: (417) 847-2940 - Fax: (417) 847-3647
Website: www.kustomkempsofamerica.com
email: kkemps09@centurytel.net
Tire-Kickin' from
KKOA President Jerry Titus
"A creative person is motivated
by the desire to achieve,
not by the desire to beat others."
February 23, 2018
……..FESTIVE TIMES AHEAD!……..
Hi Fellow member's of KKOA, past, present, and never joined yet. Since you'll see the flyer below, I need not tell you that this is super exciting news to share with you. News that I hope you will consider passing the word around, and most importantly supporting this event.
Due to the fact that there is so many different styles of car and truck related show events, it's tough to find a location site for KKOA to stage an event at. We here at KKOA respect all other car events and will not book on top of, or close to events like KKOA projects. It's just not the KKOA way.
With that said, I'm happy to announce that KKOA has secured a small, but kool town in the beautiful smokey mountains of N. Carolina, called Maggie Valley. A kool kustom name, like Kustom Kemps. And, the grassy Festival Grounds show site looks like it's kustom built for all pre-1969 knock-out kool kustoms, leadsleds, and hotrods to cruise around in and hang-out on.
It gets even better with a big nice stage for concerts, contests, and awards, a food concession stand, permanent restrooms, and lots of electric for vendors. Plus, if you're lucky enough to get a room at the Comfort Inn, (828) 926-9106, that'll be the event headquarters, it's only a 100 yards from the Festival grounds. There's also other mom & pop lodging's in Maggie Valley, and just (8) miles down the road is Waynesville, N. C., a nice size town.
Check out Maggie Valley on your map, or computer, it's on the border of N. Carolina and Tenn., surrounded by lots of big and little towns and cities. Example: 31 miles from Ashville, N.C., 27 from Gatlinburg, Tenn., 31 from Pigeon Forge, Tenn. and Dollywood. Lodging is a big deal in the area due to so many vacationer's.
Also, Maggie Valley is home to the "Wheels Through Time Museum", filled with the worlds premier collection of rare American Vintage motorcycle's.
KKOA is proud to be in Maggie Valley, and hope to remain there for year's to come. We are also on a fantastic spring weekend of the year, (May 18-19), Fri. & Sat. Like any event it's only as successful as the stars of the event who come and support it, and hopefully like it. These stars being the owners of mild-to-wild kustomized cars and trucks, the traditional tail-draggin' chopped-top leadsleds, and the wind in your face hotrod roadsters, coupe's and sedans. Real hotrodding in it's purist form. Hope you can make it.
Check the "EVENTS" link of this website, to enter via Visa/Mastercard. If you need any additional information, (event activities, lodging No.'s, etc.), don't hesitate to contact me. I'll be happy to help. (417)-847-2940. We're also on Kustom Kemps Facebook. Kruise'em easy Jerry
…..KEMPS ARE KOOL…..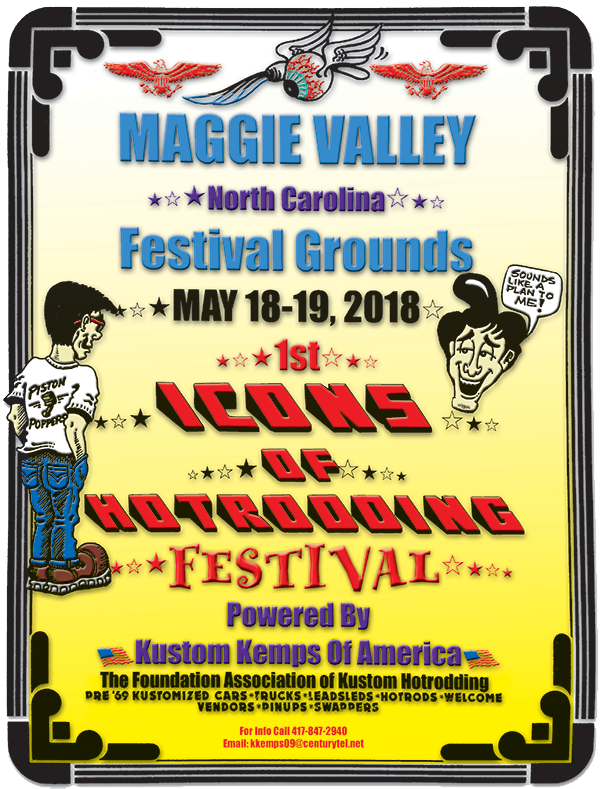 CLICK HERE TO PURCHASE TICKET
---
Posted: 1-12-18
Kustom Kemps Of America© (KKOA)
Feature Attraction 3rd Annual Feature Attraction
VINTAGE HOMEDECOR

MARKETPLACE

SPECTACULAR

July 27th and 28th

Salina, Kansas
VENDOR'S WELCOME
Held Inside The Air Conditioned
Saline County Expo Center and Kenwood Hall
(500 ft. from the "KKOA Leadsled Spectacular" at Oakdale Park)
The name says it all! Reliving the

life style & times of yesteryear!
It's your opportunity to sell vintage items of days gone by!
Vintage Home Interior, exterior furnishings, lamps, lights, rugs, pictures, etc.
Outdoor Architectural Salvage, windows, porch posts, fencing, statue's, shutters, etc.
Clothing, dress's, boot's, shoe's, Jewelry, etc., Colored bathtubs, sinks, stools, etc.
Western Furniture, Victorian decor, radio's, etc., Mid Century Furniture & Decor,
Books, Magazines, clocks, automobile parts, patio furniture, watch's, Anything Old!
…ENTER EARLY & SAVE!…
Pre-Entry BOOTH SPACE! 10' x 10'
$40.00, (Each Additional Space) $35.00
Entering At the show! 10' x 10'
$45.00, (Each Additional Space) $40.00
1st come, 1st serve space's. Entries accepted at the door w/space available.
Electric outlets free and available on first come first serve basis.
Marketplace Move-In Day: Thur. July 26, 7:am,…Move Out: 5pm Sat. July 28th
Show Hours: Fri. 9a-5p, Sat. 9a-5p (No Sunday), Vendors can get in at 8:am
General Public Admission $1.00
FREE spectator admission to all registered armband entrant's of the
Leadsled Spectacular.
Vintage Marketplace Director: Barbara Young Cell: 785-452-5272
Info. KKOA, 26 Main, Cassville, MO 65625-9400, Phone: 417-847-2940
E-Mail: kkemps09@centurytel.net, Web: www.kustomkempsofamerica.com
….Held In Conjunction With….
Kustom Kemps Of America© (KKOA)
38th Annual LEADSLED
…SPECTACULAR…
Oakdale Park, Salina, Kansas - July 26-27-28-29, '18
Salina's Biggest and Koolest Outdoor Ol' School Hotrodding Event!
Thousands's of Spectators!
Thanks For Re-purposing The Vintage & Retro Days Craze!
---
Posted 12-5-17
American Graffitti!
If you dig ol' school!
Why Not Go Back To a REAL Ol' school!!!
Kustom Kemps Of America
<![if !vml]>

<![endif]>38th LEADSLED SPECTACULAR <![if !vml]>

<![endif]>
& Run-What'ya-Brung-Drags
<![if !vml]>

<![endif]>July 26-27-28-29, 2018 <![if !vml]>

<![endif]>
<![if !vml]>

<![endif]>Salina, Kansas <![if !vml]>

<![endif]>
(America's Hotrodding Playground)
<![if !vml]>

<![endif]>Over 2,000 Entrants-in-2017 <![if !vml]>

<![endif]>
Open to all Pre-'69 hopped-up Hotrods,
chopped, channeled, and dropped Kustoms,
Pre-'70 New Concept Customs, (NCC)
Tire Spinning Drag Machines, Vendors
<![if !vml]>

<![endif]>$5,000 in Award's <![if !vml]>

<![endif]>$1,000 Top Kustom Award <![if !vml]>

<![endif]>
Retro bicycles, Model Cars, Downtown Cruise
<![if !vml]>

<![endif]>(2) $1.000, 2-Age Group <![if !vml]>

<![endif]>
<![if !vml]>

<![endif]>Pin-Up Beauty Contests - 18-39, and 40-+ <![if !vml]>

<![endif]>
Home Decor/Flea Market Spectacular
Pre-'69 Hotrods & Kustoms "ONLY" Auction
<![if !vml]>

<![endif]>One Night With ELVIS Concert <![if !vml]>

<![endif]>
Be a Real Gone Kat & Don't Play Hooky.
Or You Might Miss This 50's & 60's Trip!
417-847-2940 - Kustom Kemps Of America.com
E-mail: kkemps09@centrytel.net
KKOA Facebook
KEMPS ARE KOOL!